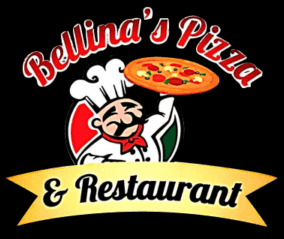 Custom Catering For All Occasions
Menu Featuring Signature Pizzas, Pasta, and Other Offerings
Appetizers
Mozzarella Sticks
6 pieces. Breaded mozzarella. Served with tomato sauce.
Fried Calamari
Tender dusted calamari tubes. Served with marinara sauce.
Baked Clams
Fresh little neck clams topped with seasoned bread crumbs.
Mussels
Mussels served with red or white sauce.
Chicken Fingers and Fries
5 pieces.
Fresh Mozzarella and Tomato
Served with a side of balsamic and oil.
Chicken Wings
Choice of spicy Buffalo or barbecue sauce.
$
6For $9.95 /12 For $16.95
Garlic Bread with Melted Mozzarella
Soups
Tortellini and Spinach Soup
Catering - Salads and Appetizer
$
Half Tray$40.00 Full Tray $75.00
$
Half Tray$45.00 Full Tray$85.00
$
Half Tray$45 Full Tray$85.00
$
Half Tray$50 .00Full Tray95.00
$
Half Tray$50.00 Full Tray 95.00
Fresh Mozzarella & Tomato
$
Half Tray$50.00 Full Tray 95.00
Sampler Platter ( Wings/Mozz Sticks/Fried Ravioli)
$
Half Tray50.00 Full Tray 95.00
$
Half Tray50.00 Full Tray95.00
$
Half Tray 50.00 Full Tray95.00
$
Half Tray$55.00 Full Tray$105.00
$
Half Tray$55.00 Full Tray$105.00
Catering - Pasta Dishes
$
Half Tray $55.00 Full $105.00
$
Half Tray$50 Full Tray $95.00
$
Half Tray$50.00 Full Tray $95.00
$
Half Tray$55.00 Full Tray$105.00
$
Half Tray $55.00 Full Tray$105.00
$
Half Tray$55.00 Full Tray$105.00
$
Half Tray$50.00 Full Tray$105.00
$
Half Tray$50.00 Full Tray 95.00
$
Half Tray$50.00 Full Tray$105.0
$
Half Tray $50.00 Full Tray$95.00
$
Half Tray$75 Full Tray$ 130.00
$
Half Tray$55.00 Full Tray$105.00
Catering - Entrees
$
Half Tray $75 Full Tray $130.00
$
Half Tray$60 Full Tray$115.00
$
Half Tray$70.00 Full Tray$130.00 Full Tray$120.00
$
Half Tray$75 Full Tray$130.00
$
Half Tray$70.00 Full Tray$130.00
$
Half Tray$75.00 Full Tray$145.00
$
Half Tray$75.00 Full Tray$145.00
$
Half Tray$75.00 Full Tray$145.00
$
Half Tray$75.00 Full Tray$145.00
$
Half Tray$55.00 Full Tray$105.00
$
Half Tray$55.00 Full Tray$105.00
$
Half Tray$75.00 Full Tray$145.00
Shrimp Parmigiana
Lorem Ipsum is simply dummy text
$
Half Tray$75.00 Full Tray$145.00
$
Half Tray$55.00 Full Tray$105.00
$
Half Tray$50.00 Full Tray$95.00
PACKAGE # 1
Includes : * 1/2 Tray Penne Alla Vodka *1/2 Tray Chicken Your Choice *1/2 Tray Garden Salad *1/2 Tray Garlic Knots
PACKAGE # 2
Includes : *1/2 Tray Penne Alla Vodka *1/2 Eggplant Parm *1/2 Tray Chicken Your Choice *1/2 Tray Fried Calamari *1/2 Tray Garden Salad * 1/2 Tray Garlic Knots
PACKAGE # 3
Includes : 1/2 Tray Penne Alla Vodka *1/2 Eggplant Rollatini * Full tray Chicken Your Choice * 1/2 Tray Meatballs * 1/2Tray Sausage & Peppers * Full Tray Garden Salad * Full Tray Garlic Knots